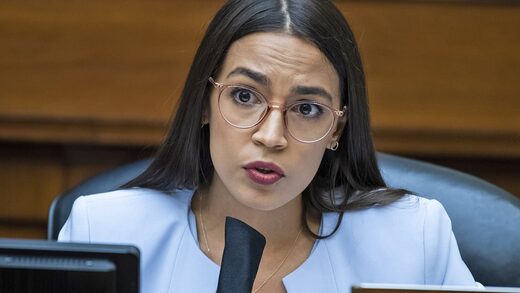 © Tom Williams/CQ Roll Call/Bloomberg via Getty Images
Rep. Alexandria Ocasio-Cortez saw that Congress is "looking into" media literacy initiatives to help "rein in" the press to combat misinformation in the wake of last week's deadly breach of the U.S. Capitol.
'You can't just spew disinformation and misinformation,' Ocasio-Cortez says
Rep. Alexandria Ocasio-Cortez said that Congress is "looking into" media literacy initiatives to help "rein in" the press to combat misinformation in the wake of last week's deadly breach of the U.S. Capitol.
During a lengthy live stream on Instagram on Tuesday night, the leader of the so-called "Squad" discussed the aftermath of the Capitol riot, how she feared for her life during the chaos and what needs to be done going forward.
At one point, Ocasio-Cortez read a question from a viewer who asked if there is discussion in Congress on "truth and reconciliation or media literacy initiatives" to help with healing.
"I can say, there is absolutely a commission being discussed but it seems to be more investigatory, in style rather than truth and reconciliation, so I think that's an interesting concept for us to explore, and I do think that several members of Congress, in some of my discussions, have brought up media literacy because that is a part of what happened here and we're going to have to figure out how we rein in our media environment so that you can't just spew disinformation and misinformation," Ocasio-Cortez said.
"It's one thing to have differentiating opinions but it's another thing entirely to just say things that are false," she continued. "So that's something that we're looking into."
The office of Ocasio-Cortez did not immediately respond to a request for comment.
Ocasio-Cortez also told followers that she thought she might die during a "traumatizing" close encounter amid the chaos of the deadly riot.
"I can tell you that I had a very close encounter where I thought I was going to die," she said. "And you have all of those thoughts where, at the end of your life…all of these thoughts come rushing to you. And that's what happened to a lot of us on Wednesday and I did not think – I did not know if I was going to make it to the end of that day alive."
She said she didn't just mean it generally but in a "very, very specific sense."
The congresswoman gave no details, saying she wasn't sure if she was allowed to completely discuss what happened for security reasons.
It wasn't an exaggeration to say that "many, many members of the House were nearly assassinated," she told her followers.
"We were very lucky that things happened in certain minutes that allowed members to escape the House floor but many of us nearly and narrowly escaped death," she added.
Following the riots, Ocasio-Cortez has called on President Trump, Sens. Josh Hawley, Ted Cruz and any other Republicans who "amplified lies to undermine our democracy, encouraged an attack on our Capitol, and tried to overturn our election" to resign.
Comment: More from The Hill:
Ocasio-Cortez says she thought she 'was going to die' in 'close encounter' during Capitol rioting

Dominick Mastrangelo – 01/13/21 07:46 AM EST

…

A mob of angry Trump supporters stormed the Capitol as a joint session of Congress met to certify President-elect Joe Biden's Electoral College victory.

The breach sent lawmakers into hiding and forced the proceedings to adjourn for several hours before police could clear the building. Federal law enforcement officials have said they believe the riots were organized online by far-right extremist groups with a goal among some of them of capturing or killing leading lawmakers.

Several of the demonstrators were seen in the Capitol carrying zip tie restraints, which are sometimes used instead of handcuffs.

House Democrats have introduced a single article of impeachment against Trump in the wake of the riot, accusing him of "inciting insurrection" and riling his supporters to commit acts of violence against them.

During a speech just hours before the riot began, Trump urged his supporters to march on Congress and display "strength" as they protested the Electoral College certification process.

Ocasio-Cortez was one of the first House members to call for Trump's impeachment following the incident last week, also attacking Sen. Ted Cruz (R-Texas) and Josh Hawley (R-Mo.) for contesting the election's result.

"I don't want to see the Republican Party talk about blue lives ever again," Ocasio-Cortez said in reference to the death of a Capitol Police officer as a result of the rioting. "This was never about safety for them. It was always a slogan. Because if they actually care about the rule of law they would speak up when people break the law."
And this from RT adds an interesting bit of info into the mix:
Congresswoman claims office 'panic buttons' removed before Capitol riot as Dems demand investigation into 'suspicious activitity'

13 Jan, 2021 22:11

Staff for Rep. Ayanna Pressley (D-Massachusetts) is claiming there is an investigation into office "panic buttons" being removed before the US Capitol riot while other Democrats are demanding a probe into "suspicious activity."

Democrats are leading the charge into conspiracy theories surrounding the siege of the US Capitol by supporters of President Donald Trump last week, with multiple claims that more could have been involved in the riot.

Pressley's chief of staff, Sarah Groh, has gained the attention of many social media users thanks to a Boston Globe interview this week where she alleged that panic buttons from the congresswoman's office had been removed without explanation or warning from her office, something she and Pressley discovered on the day of the riot.

"Every panic button in my office had been torn out — the whole unit," Groh said, adding that she and other staff had previously used the duress buttons and they had been regularly tested.

A spokesperson for Pressley said in a Wednesday statement that the issue is currently being investigated and new panic buttons were installed in the office the day after the protest.

The House sergeant-at-arms and Capitol Police have not publicly addressed the matter, but it is just one of multiple details Democrats are saying needs to be looked into.

Rep. Mikie Sherrill (D-New Jersey) led over 30 members of Congress in signing a letter demanding an investigation from the Acting House Sergeant at Arms, Acting Senate Sergeant at Arms, and United States Capitol Police into "suspicious activity" the day prior to events at the Capitol.

Sherrill claims that lawmakers helped run "reconnaissance" of the Capitol the day before the protest through public tours. She did not specifically name the lawmakers she was accusing.

"Many of the Members who signed this letter, including those of us who have served in the military and are trained to recognize suspicious activity, as well as various members of our staff, witnessed an extremely high number of outside groups in the complex on Tuesday, January 5," she and others wrote in their letter demanding an investigation.

They claim such access to the Capitol was "unusual" since the area has been restricted and public tours were canceled in March due to the Covid-19 pandemic.

"The tours being conducted on Tuesday, January 5, were a noticeable and concerning departure from the procedures in place as of March 2020 that limited the number of visitors to the Capitol. These tours were so concerning that they were reported to the Sergeant at Arms on January 5," they said.

They claim those who stormed the Capitol had "unusually detailed knowledge of the layout" of the complex.

Sherill promised in a Facebook Live video that she will hold lawmakers who allegedly gave access to the Capitol to protesters "accountable."

Sherill's accusations follow Rep. Alexandria Ocasio-Cortez (D-New York) claiming she did not feel safe around other members of Congress during the riot.

"There were QAnon and white-supremacist sympathizers and, frankly, white-supremacist members of Congress in that extraction point who I know and who I have felt would disclose my location and would create opportunities to allow me to be hurt, kidnapped, et cetera," she said, not identifying exactly whom she was referring to.
1
www.sott.net

Read Source